Hauptsturmführer in the SS
This Waffen-SS uniform is in the "mouse gray" or "mouse brown" color.
The wearer has earned the Close Combat clasp in gold, worn above his service ribbons, and is responsible for destroying at least one enemy tank, using hand held explosives, as shown by the Tank Destroyer badge on his upper right arm.  
Around his neck is the Knight's Cross of the Iron Cross with Oak leaves and the 1st Class Iron Cross is on his breast pocket. His Iron Cross 2nd Class is worn on his ribbon bar.
He also wears the distinctive SS officer's belt buckle. His hat bears the dreaded symbol of the SS, the "Death's Head" or Totenkopf.
Hauptsturmführer in a SS Panzer unit
The distinctive black panzer "wrap" tunic was developed for streamlining purposes, to eliminate buttons and flaps that would catch on the inside of a narrow hatch opening.  
Black was the logical choice for a job where engine grease and soot are part of the daily grind.  Note the cap piping and shoulder board underlay in the rose-pink "Waffenfarbe" (fighting colors) of the Panzer elite. His hat has the Totenkopf.
This officer has a "tank destruction badge" on his upper right sleeve, indicating that he has destroyed at least one enemy tank using hand held explosives.

Not surprising since his gold-and-silver Panzer Assault badge announces that he has taken part in at least 75 Panzer missions in various units, some in Poland, Holland & France in the early war but mostly on the Russian Front. On his right hand he wears the flashy red-enameled Iron Cross with SS runes ring complete with lightening bolts on the side. He thinks it a little too much but it was a gift from his widowed mother, so he wears it anyway.
His awards and decorations include the Iron Cross 2nd Class (worn as a ribbon tucked into his button-hole), Iron Cross 1st Class. It shows a bit of wear and tear as can be expected from a medal that is worn in the field. Some of the baked enamel finish has been knocked off his medal and shows the iron core but he wears it proudly regardless. He also wears the Wound Badge in black.
Hauptmann of the Heer (army) early
This Hauptmann wears the early Grossdeutschland cuff title and gold GD ciphers on his epaulets.  
His leather Y-strap is the early war model.  Later in the war a canvas mesh variation, originally designed for tropical use, was issued widely because of its lower cost.  
His decorations include the Iron Cross 2nd Class, General Assault badge, Iron Cross First Class which is one of the variations made with a brass core, not iron, and so it shows up as a golden colour. This manufacturing practice was not allowed to continue and his is a rare item.
He also wears the Ritterkreuz (Knight's Cross of the Iron Cross), along with ribbons for the War Merit Cross First Class with swords and a 4 year Wehrmacht Long Service medal.
This later war "feldbluse" (4-pocket service tunic) was made of material inferior to earlier issues, and for that reason required an additional button to keep from "gapping" at the closures.  
Note that the M40 stahlhelm lacks the tri-color and Heer eagle decals of earlier helmets, and is coated with "zimmerit," a cement-like paste used to thwart the placement of magnetic mines on armored vehicles.  
Many infantry soldiers borrowed zimmerit from panzer units and used it to reduce their steel helmets' characteristic gloss finish.  
 
His decorations now include the Eastern Front Campaign ribbon on his ribbon bar.
Note too that he is wearing the German Cross in Gold, in an embroidered cloth version for field wear. He also wears the Wound Badge in Gold. Not surprising considering his record of combat.
He carries the 9-mm MP-40 sub-machine gun with folding metal stock.
Allied soldiers mistakenly referred to this weapon as the "Schmeisser," 
standard-issue M36 service dress
The Wehrmacht employed fashion designers as well as clothing engineers to create their notably striking uniforms.  Equally important as functionality was the desired "look." 
The tailoring of both officers' and soldiers' uniforms was calculated to inspire awe, creating an immediate impression of Prussian military bearing in even the most unimposing physique.  
To further perpetuate the myth of the Aryan "superman," the designers placed the belt and the skirt of the tunic intentionally high, making the wearer's legs look longer and thus exaggerating his height.
 Officers' standard-issue tunics, although similar in cut to those of the common soldier, were of somewhat higher quality in both materials and workmanship.  They were also distinguished by their wide turned-back cuffs, which often served the functional role of a map pocket. 
He wears the Infantry Assault badge (silver for infantry, bronze was for motorised infantry). He wears all 3 levels of the Iron Cross, 2nd class, 1st class and Knights Cross.
Hauptmann in the DAK (Afrika Korps)
This officer is wearing a tropical cotton twill 5-button tunic, with specially reinforced additional seams for tough desert duty.  
His "stahlhelm" (steel helmet) is the M40 design, virtually identical to the M35 except that its ventilation ports are integral to the shell instead of attached. 
He bears an MG42 light machine gun, known to many Allied solders as the "burp" gun because of the characteristic sound of its 1,200 to 1,500 round-per-minute bursts.  (The MG42 was the fore-runner to the now famous American GPMG M60 machine gun of the Vietnam war). 
The Afrika Korps wore two distinctive cuff titles. It is said that the second one, seen here, was designed by Hitler himself with the simple legend "AFRIKA" flanked by twin palm trees on brown. As well they wore 2  different decals on their helmets.
Hauptmann in the DAK (Afrika Korps)
Many Afrika Korps soldiers wore the M40 field cap whenever possible, as an alternative to the heavy steel helmet which became a "cooking pot" in the desert heat.  Locally-purchased scarves were also more practical for everyday wear than the regulation shirt and tie.
Soldiers who participated in the joint Italian & German effort were entitled to wear the Italo-German Campaign award either as a ribbon or, as seen here, a full-sized medal.  Above his 3 service ribbons this officer wears the Close Combat Clasp in gold, and below them the Iron Cross First Class and the Infantry Assault badge in bronze as well as the Iron Cross 2nd class ribbon.
in winter camouflage
The SS "oak" pattern camouflage hooded winter parka was reversible to snow-white. Care was needed when wearing the white side out, however, to prevent it from being soiled with mud and losing its camouflage value. The nylon blend material was hard to clean in the field, and even harder to dry in winter weather. 

Helmets were also commonly camouflaged with white paint for winter. Note the SS runes decal on the wearer's helmet (right side). 

This officer's weapon is the G/K-43 Walther semi-automatic rifle, equipped with a rarely-seen 25-round "banana clip" instead of the standard 10-round magazine.
The G/K-43 was designed as Germany's answer to the American M-1 Garand. He also wears army-issue green canvas and leather shooting gloves. These cover his large and only semi-official Waffen SS ring.
Hauptsturmführer SS                             camouflage smock
This Waffen-SS officer is wearing the "blurred edge" pattern Type 2 camouflage smock.  His field gray M40 SS helmet is also camouflaged with daubs of black and sand-colored paint.  
This camouflage appears to have been applied by a spray gun, as was sometimes done en masse for an entire unit in the field with a paint rig borrowed from the motor pool.  
In addition to paint, camouflage-pattern cloth helmet covers were used.  Some soldiers took other creative approaches, adding chicken wire-type wire rigs to hold branches, leaves and grass. The smock also provides loops for tying on foliage.
Shoulder rank is not worn with the smock. On his right hand he wears a variation of the Waffen SS ring.  Instead we see on his left sleeve the green embroidered Waffen-SS sleeve rank for a Hauptmann (Captain).  He carries the "Sturmgewehr" MP-44, considered by many to be the world's first operational assault rifle.
Hauptmann in the Polizei                     in sidecap
Heree we see the same officer as above in service dress, with leather service belt and Luger pistol holster.
On his left pocket is the War Merit Cross 1st class without swords (non-combatant). The ribbons are 8-year Police long service medal and a 25-year NSDAP long service medal. 
By a complicated system of extra-credit, it was not uncommon for Germans in military and Party service to receive the 25-year Long Service Award for far fewer years of actual service.
This officer tends to be a bit of a show-off so he wears a massive, unofficial swastika ring on his right hand.
Hauptmann, Polizei                              M35 helmet Mauser K98
This is how a  police officer would have dressed for duty with a field unit.  
Black leather ammunition pouch is the same as would have been worn with his parade uniform (for a long-term field assignment he would have acquired something larger and more utilitarian.
Probably a set of three standard army-issue brown leather ammunition pouches.  
He wears a black Police M1935 helmet with party symbol decal on the right and the wreathed police eagle on the left. 
His weapon is the K98 Mauser rifle.And for his efforts in eradicating various opposition elements and other enemies of the Reich, he has earned the Anti-Partisan defense badge in silver, worn on his left breast pocket. As another memento of his time fighting the partisans he wears the Anti-partisan ring on his right hand.
Luftwaffe officers wore either a white or blue shirt under their gray-blue tunic.  
This officer's peaked "schirmmutze" cap bears the unpopular early-design "droop-tail" eagle design, which was soon replaced with the version seen over his right breast pocket. 
These eagles would have been hand-embroidered  of silver-aluminum flat wire, which may explain why this officer has not yet seen fit to lay out the necessary Reich marks to replace the one on his hat.
His tunic features smooth-finished aluminum buttons, as opposed to the low-gloss "pebbled" buttons used on army uniforms.
Instead if the standard square-buckle service belt, he wears a brown leather dress belt with Luftwaffe officer's parade buckle. The square-cut pocket flaps were also unique to Luftwaffe tunics when they were introduced. However many officers and men wore the traditional "scalloped" flaps. Note the collar tabs that indicate rank. In addition to his other awards, this Hauptmann wears the "Blood Order" of the NSDAP.  
He wears the ribbon of the Iron Cross 2nd Class in the 2nd buttonhole of his tunic, the Iron Cross 1st Class on the left pocket and the Knight's Cross of the Iron Cross at his throat.
Above the ribbons is his gold Short Range Day Fighter clasp, which identifies his flying assignment. 
Hauptmann in the Luftwaffe              in flight jacket
The Luftwaffe designed its sleek leather flying jacket both to minimize bulk in the cockpit and to avoid the complications of flaps and buttons when climbing in and out.  
Many Luftwaffe pilots removed the rigid framing of their "schirmmutze" caps, as done by Allied airmen whose practical excuse was that it enabled them to fit their radio earphones over their caps when flying.  
Specially made, soft  "crusher" style caps were also worn by many German tankers and even some infantry officers and NCO's.
His  non-official but accepted Luftwaffe ring is worn on his right hand.
Instead of piercing his jacket with metal decorations, this Hauptmann displays cloth versions of his Iron Cross First Class and "Flugzeugführerabzeichen" (Pilots' Badge), as well as the Luftwaffe breast eagle.  All are embroidered in the fine aluminum or silver wire bullion authorized for officers.
When he returns to the Officer's Mess after another combat flight he is entitled to (but doesn't) use  his Luftwaffe Honour Goblet (Ehrenpokal), a ''non-portable award" that bridged the gap between the Iron Cross 1st Class and the German Cross in Gold or Knight's Cross (which he was later awarded and can be seen at his throat) . Established in February 1940, the Ehrenpokal was awarded by the authority of Reichsmarschall Hermann Göring to Luftwaffe personnel "for special achievement in the air-war". This was an award for aircrew only.
The award of the Honour Goblet automatically enrolled him on the Luftwaffe Honour Roll which is indicated by a clasp (spange) worn on the Ribbon of the Iron Cross. 
NSDAP National Socialist German Workers Party (Nazi Party)
This uniform is that of the only member of the "All Forces" collection who is not a military officer.  Nor does he bear rank, in the traditional military sense.  
As a "Kreisleiter," he is political leader over a Kreis -- a district typically taking in several small towns.  
The scope of his responsibility might equate roughly to that of an army Colonel.  
In addition to the coveted Blood Order medal, he wears the German Order, which Hitler himself is reported to have called the highest of all German decorations.
Of course, the gold party membership pin in the centermakes it clear that only NSDAP members were eligible for the award. Although the shums personal jewellery he does wear a NSDAP wedding ring. In dress uniformhe wearshis SA presentation dagger on his left hip.
Hauptsturmführer; Allgemeine SS 
It seems that this 8-year veteran should have advanced higher than captain by now.  
The possible explanation is twofold:  
First his 8-year N.S.D.A.P service ribbon applies to membership in the party, not in the SS (he has 4 years of service in the SS). And second, the chevrons on his right arm identify him as a former police officer, not a soldier.   
He is also wearing two memorial party Gau badges, including the 1925 badge (when Hitler reformed the NSDAP and took control of it) and the East Prussia Gau badge.
He also has, but does not wear, the 1925/35 Commemorative Gau badge. Gau badges were civilian in nature but the SS were allowed to wear a mixture of civilian and military badges. He also wears his gold NAZI party membership pin, and of course the distinctive black-bordered SS party member armband. 
Kapitanleutnant in the Kriegsmarine
The gold stars in place of staff corps sleeve insignia identify this Kaptitanleutnant as a command officer, possibly a junior exec. The gold braid below the stars communicates his rank.  
He wears a ten-button double-breasted navy blue tunic and a white-crowned cap with the single row of gold braid on the visor appropriate to his rank. His gold-and-silver Surface Fleet badge (Das Flottenkriegsabzeichen) shows that he serves above the waves and hopes to stay there.
The gold-colored metal national-emblem eagles on his chest and cap are optional alternatives to the gold bullion standard-issue versions.
He wears all 3 versions of the Iron Cross, 2nd class, 1st class and Knights Cross. His Iron Cross 1st classis a brass cored version. There is unproven speculation that brass cores for the Iron Cross were first introduced for the Kriegsmarine to protect the medal against salt water induced rust.
Hauptmann, Luftwaffe Fallschirmjäger
Parachutists of the German Luftwaffe were called Fallschirmjäger, literally "parachute hunters." They were considered elite light infantry. Over his field-blue ("feldblau") Luftwaffe tunic, this Fallschirmjäger Hauptman wears a "knochensack" (jump smock) in 3rd-pattern "tan-water" camouflage. 
His M-38 parachutist's helmet bears the German national tri-color shield decal on its right side and the Luftwaffe's eagle emblem on its left.  Many paratroopers added homemade camouflage paint schemes to their combat helmets.
Chicken-wire rigs like the one shown were a common way of attaching leaves and branches as additional camouflage; other methods included string-mesh netting and simple elastic bands or the strap of a bread bag. Insignia other than sleeve rank were not authorized on the jump-smock except in parade dress or, as seen here, for portraits. Of course, like all rules in all armies, it was often ignored.
This Hauptmann's decorations include the German Cross in Gold, displayed below the embroidered Luftwaffe breast eagle zig-zag stitched to his jump smock.  On his left chest is a ribbon bar showing the War Merit Cross 2nd Class with Swords and a 4-year Long Service medal ribbon. It bears the Wehrmacht spread wing eagle device for his early Heer service (1935-39); The other is a 12 year service medal ribbon with the Luftwaffe silver flying eagle device (1939-43).  The medals were identical for all military services, branch of service was indicated by the device. All military service counted and war-time service counted as double. Last on his ribbon bar is the ribbon representing the Sudetenland Campaign medal with Prague Castle device.
Beneath these ribbons is the Iron Cross First Class, and below it, closest to his heart, is the 1937-issue first pattern Army (Heer) Fallschirmspringerabzeichen (Parachute Jumper [qualification] Badge) he won as an early member of the Army's elite Fallschirm-Infanterie-Bataillon, or Parachute Infantry Battalion.  (This battalion was transferred to the Luftwaffe at the beginning of 1939, becoming II./ Fallschirmjäger Regiment 1.)  
The Heer badge had an oak-leaf wreath surmounted by a small Wehrmacht eagle clutching a swastika. In the later Luftwaffe version there is no Wehrmacht eagle; the large diving eagle itself clutches the swastika.  The Luftwaffe version also introduces laurel leaves on one side of the wreath. Oak leaves are a symbol of strength.  Laurel leaves, ever since ancient Greek athletes were first crowned with them, represent victory, excellence and achievement.  Thus both are fitting in a badge awarded to the elite paratroopers who qualified for it by completing both rigorous training and an exacting test.  In the case of the Fallschirmjager, that test comprised no less than six parachute jumps, including one at night. As a participant in  three subsequent combat operations, this officer also wears the Luftwaffe "Erdkampfabzeichen," or Ground Assault Badge. 
Lowermost of his decorations is the Wound Badge in Black, recognizing his two combat wounds.  The two buttonhole ribbons he has inserted into a hand-cut slit in his jump smock represent the Iron Cross 2nd Class and the "Winterschlact" (Winter Battle) medal, officially called the Ostfront (Eastern Front) Campaign medal, for participation in the invasion of Soviet Russia.
Hauptmann Luftwaffe FJ
This Hauptmann of the Fallschirmjäger wears a popular combination for everyday duty throughout the Luftwaffe, the M40 "fliegerbluse" or flyer's blouse, along with the lightweight M40 "fliegermutze" (flyer's cap).  The fliegerbluse was descended from field blouses worn by German troops during WWI. 
Standard-issue versions of the fliegerbluse featured plastic or glass buttons hidden by the center flap, a hook-and-eye closure at the collar, and a streamlined torso with no external breast pockets.  This Hauptmann's custom-tailored version also has sewn-in shoulder-boards.
As an officer, his collar and his cap are piped in silver-white braid. His tunic displays the Iron Cross 1st Class embroidered cloth version and his Luftwaffe "Fallschirmspringerabzeichen" (parachutist's badge), bullion version.  On his cap is pinned the metal parachute badge of the 1st Fallschirmjäger Regiment in the Italian Theatre, which was an official German badge manufactured in Italy.
The 'Kreta' cuff title was awarded to participants in the battle to re-take Crete from the British in May 1941, where this officer and his men parachuted onto Retimo Airfield to lead the ultimately successful attack, codenamed "Operation Mercury." 
YouTube: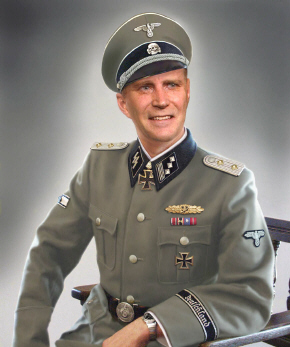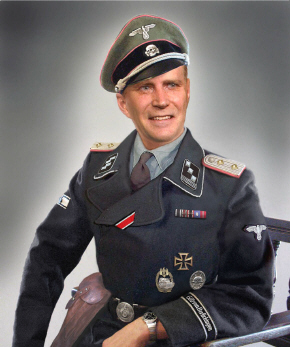 His current unit, SS-Panzergrenadier-Division Götz von Berlichingen was raised in Oct 1943 from replacement units and conscripts and stiffened with some experienced men like our Hauptmann. It saw action against the US forces in Normandy from 10 June 1944 and suffered heavy losses.
The surviving parts of the division refitted in the Saar during Sep and took on manpower from Heer and Waffen-SS stragglers. It fought around Metz in October and November before once again retreating to the Saar, seeing action there in December.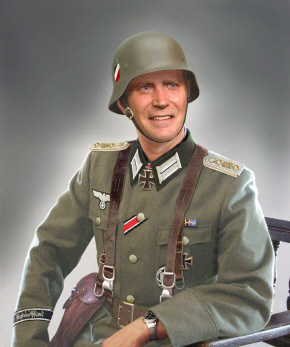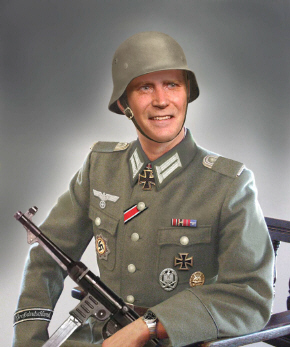 and that misnomer still persists even though designer Hugo Schmeisser, famous for the Bergmann MP-18 submachine gun of World War I, actually had nothing to do with the MP-40.
The simplified Grossdeutschland cuff title is of post-1940 design. He has covered the gleaming gold officer rank pips with wool felt wraps matching his tunic, to make himself a less attractive target.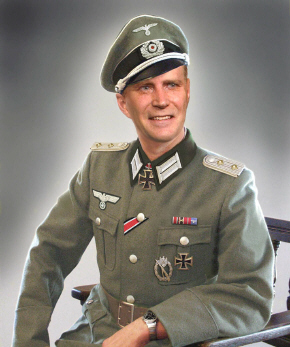 This officer wears the standard-issue M36 "feldgrau" (field gray) wool service tunic and peaked cap with cast-metal cap insignia and pebbled buttons. 
He is not a superstitious man but manages to carry his 'good luck charm' on him at all times. It is a 2 Reich- mark coin given him by his Grandmother. As well he wears his Wehrmacht ceremonial dagger on his left hip.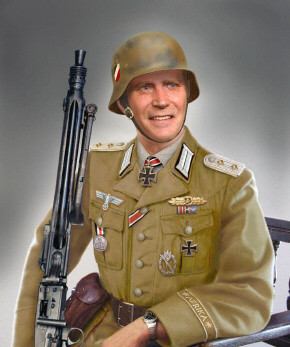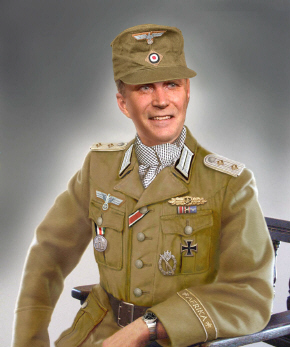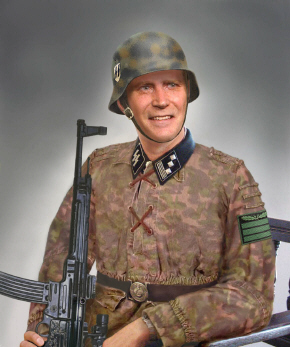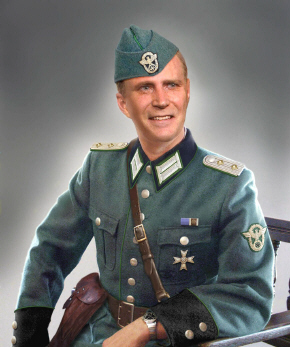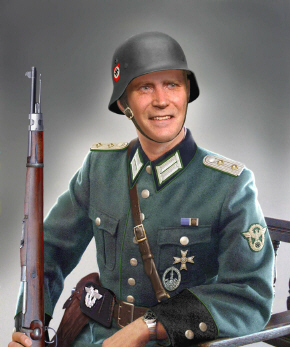 This is against regulations but as it was a gift from a high ranking SS Officer a blind eye is turned to it.
On his left pocket, closest to the heart, and beside the Wound Badge in black, he wears the gold-and-silver Luftwaffe Pilots Badge, which has been called the most beautiful military badge ever created.
Hermann Goering obviously thought the design OK because he had a version of the Pilots/Observers badge made in solid gold and silver with diamonds to be presented to high officials in Germany and heads of State like Mussolini. As an early member of the Luftwaffe he proudly wears his 1st Model Luftwaffe Ceremonial dagger, with it's stiletto blade, on his left hip.
On his left hip is his 2nd Model Luftwaffe Ceremonial Dagger with it's distinctive cross-bar/finger guard.
In the Battle of Britain he flew a Messerschmitt 110 twin engined fighter.
These were no match for the Spitfires and Hurricanes of the RAF and only his skill and daring got him through that campaign.
Later he was transferred to a Squadron that was equipped with Messerschmitt 109 single engined fighters that were much more attuned to his skills. 
A disagreement with a stupid and overbearing superior saw him do a short stint with a Squadron in North Africa flying a Stuka dive bomber in support of Rommel's Afrika Corps but he hated it and soon wangled his way back to fighters and his beloved 109s.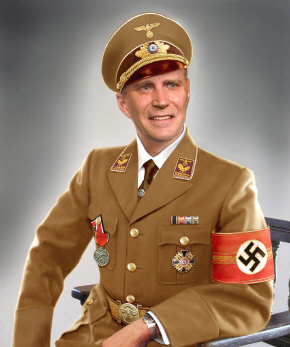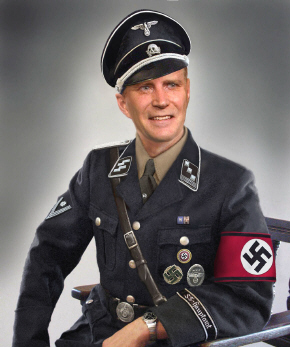 His hat bears the Death's Head badge or Totenkopf, the dreaded SS insignia.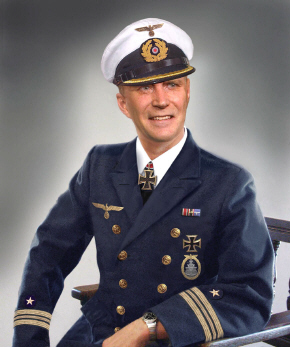 They also often wore the cloth version. On formal ocassionshe wears his Kriegsmarine Ceremonial Daggerfolded wing eagle' handle.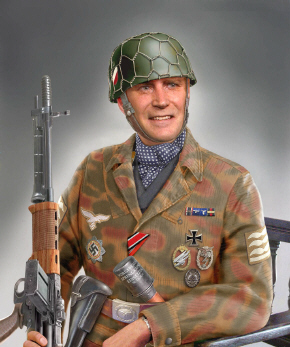 He wears an enlisted ranks belt rather than the authorized officer's version, as a gesture of solidarity with his men and also as a memento of his enlisted roots. One of the interesting things about the Fallschirmjäger uniform was side laced jump-boots.
Starting from a small collection of Fallschirmjäger battalions at the beginning of the war, the Luftwaffe built up a division-sized unit of three Fallschirmjäger regiments plus supporting arms and air assets, known as the 7th Air Division. Later in the war the 7th Air Division's Fallschirmjäger assets were reorganized and used as the core of a new series of elite Luftwaffe infantry divisions, numbered in a series beginning with the 1st Fallschirmjäger Division.
During the Battle of Monte Cassino the 1st Fallschirmjäger Division operated as ordinary infantry. When the Allies bombed the Monastery of Monte Cassino they inadvertently created an excellent fortress of rubble. This enabled the still-present Fallschirmjäger troops to hold out for months against repeated assaults and heavy bombardment. They were nicknamed "Green Devils" by the Allied forces for their tenacious defense, though they were finally forced out of the position by British, Polish and French Moroccan forces.
Out of view in a special pocket on this Fallschirmjäger's trouser-leg is his gravity knife, which was issued to paratroops in case they had to cut themselves free from a parachute that had become tangled in a tree or other obstruction. A gravity knife is so named because it can be opened solely by the forces of gravity or centripetal force.  The blade exits out the front of the handle point-first and locks into place.
Tucked into the Hauptmann's belt is an M-24 "potato masher" stick grenade.  His sidearm is the Walther P-38 pistol.  The P-38 was preferred by many Fallshirmjäger officers because it was more reliable and easier to maintain than the famous Luger P-08, and fired the same 9-mm parabellum ammunition used in German submachine guns.
The weapon he holds is the 7.62-mm FG-42 rifle, which was created exclusively for Germany's parachute regiments.  FG stands for "FallshirmjägerGewehr," or "paratrooper's rifle."
 
The blue polka-dot scarf was a popular accessory with some Fallschirmjäger units. Of course he also wears the Fallschirmjäger ring in silver.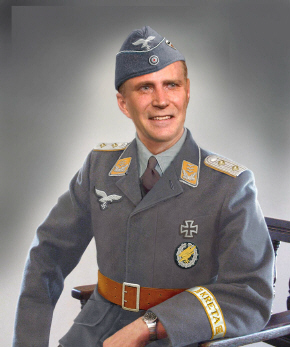 His men held him in high esteem as a result of his personal heroism so did Generaloberst Student, who awarded him the Kreta Shield. Although successful, the spirited resistance of Australian & New Zealand troops at Retimo made it so costly to the German paras that Hitler banned any further para-assaults.